Counter-Strike online play
Have you dreamt about playing CS 1.6 on your browser without having to enter your login details? Well, the dream became true with the CS 1.6 online, which is a full-fledged Counter-Strike game that offers the same features as other platforms on an internet browser. If you can't decide between CS 1.6 online and CS 1.6 Pc, here is a detailed comparison so you can rescue hostages and defuse bombs.
CS Online Vs CS 1.6 PC
This comparison is a must-have because the community of Counter-strike players is divided, and they don't know which side to choose. After this comparison, they will know the pros and cons of each version of Counter-Strike 1.6.
CS Online
As the name suggests, CS 1.6 Online is purely an online version that is available for internet browsers. It involves no installation of Counter-Strike on your pc, and you can access the game through a simple link. There are hundreds of public servers with thousands of players in CS 1.6 online. Apply filters to easily look for the desired server from the list. These filters include the number of active players, skill level, game mode, and game map. There are separate servers for countries, and you can select a country to view servers from that location. It features all the game modes of the Pc version of CS 1.6, along with some new game modes that are developed for the browser version. From the settings section, change the controls while the default controls are the same as the pc version. Below are all the browsers that support CS 1.6, and they are ranked from best to worst. • Google Chrome • Chromium • Comodo Dragon • Safari (Mac OS X) • Mozilla Firefox Nighly • Mozilla Firefox • Mozilla Firefox Developer • Microsoft Edge • Opera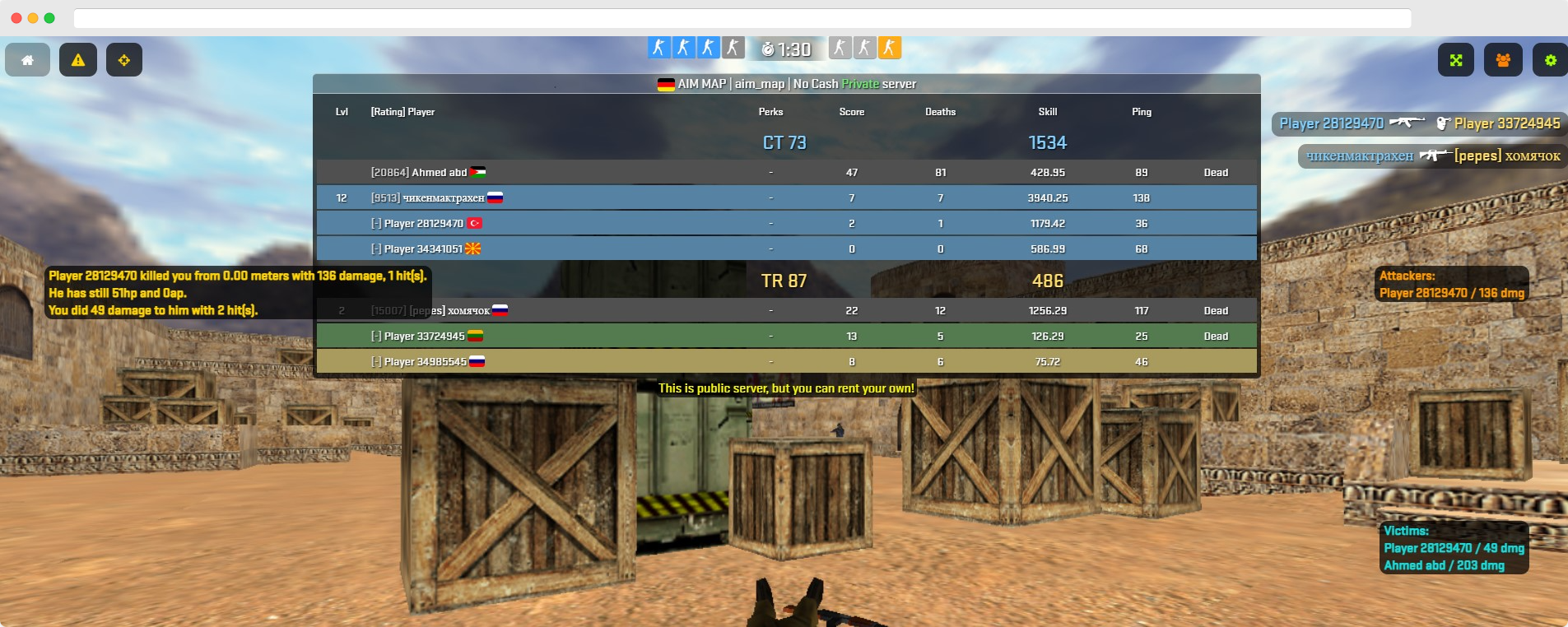 CS 1.6 PC
Most of the community is already familiar with the Pc version of CS 1.6, which has been in the market for more than twenty years. Soon after the release of CS 1.6, it broke many records and ranked as one of the most popular co-op first-person shooter games. It remained the top-played game years after its first release. After so many years, CS 1.6 is still played by thousands of players around the globe. The setup was pretty simple, where two teams with five players each entered a game map, and one team emerged victorious by either eliminating the other team or completing the task in the remaining time. New modes and maps were added to the game in updates to keep players engaged with new content. For all the shooters, there is a gun. It featured an economy where you start with a few hundred dollars and earn money by killing enemies and winning rounds. After each round, you can purchase guns and equipment from the store. If you die in a round, you will have to buy new weapons. The only difference between CS 1.6 pc and the online version is the performance. The performance on CS 1.6 Pc is way better.